Not only a great player, Lionel Messi has repeatedly proved he is a man of good character, through many memorable charitable acts.
According to sports news site Givemesport, Lionel Messi had a difficult childhood. In order to pay for his treatment for a growth hormone disorder, Messi 's parents had to run everywhere.
For Messi, the difficult time is unforgettable, so since becoming famous in the Barcelona shirt, the Argentine player has persistently done charity.
Donate 1 million euros to fight Covid-19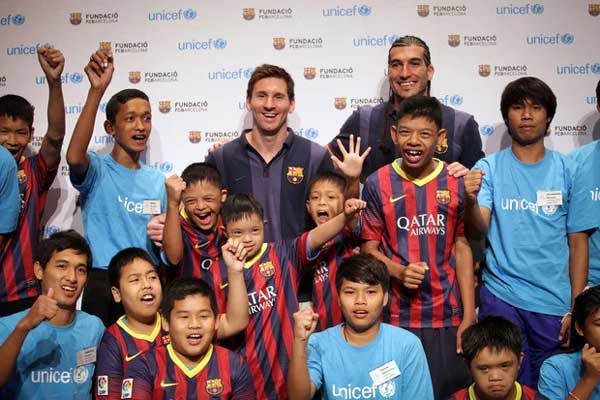 Lionel Messi in UNICEF charity activities. Photo: Twitter
In 2020, when all economic, social and sports activities globally were disrupted because of the Covid-19 pandemic, Messi donated 1 million euros to the hospital in Barcelona, ​​Spain. This money has ensured adequate medical supplies for local people.
Not only contributing financially, Messi also actively appeared in propaganda campaigns to raise awareness against the epidemic.
Calling for a donation of 30 million euros for the specialty of Sant Joan de Deu . hospital 
The main object of Messi's charity campaigns are children, because he wants every child to grow up better, without having to go through the same hardships he had when he was young.
In 2018, when the Sant Joan de Deu (SJD) hospital wanted to open a cancer treatment specialty for children, the star of PSG came forward to call for funding.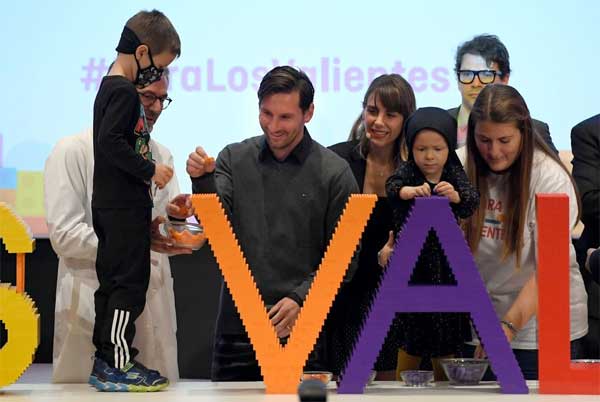 Messi at the opening ceremony of the pediatric oncology specialist. Photo: Twitter
With his influence, Messi quickly raised 27 million euros. The Argentine star then contributed another 3 million euros to complete the sponsorship campaign. 
"I hope every child will continue to persevere in the fight against this terrible cancer. I am very proud to be able to contribute to them," Messi said at the inauguration of the SJD hospital's specialty.
Donate 650,000 Euros to refurbish the hospital in his hometown
In 2013, Lionel Messi sent 650,000 euros to refurbish the hospital in the town of Rosario, where he was born. By 2020, when he learned that this hospital did not have enough equipment to treat severe Covid-19 patients, Messi had transferred to 50 ventilators.
Paying hospital bills for a 12-year-old boy
In 2012, Messi was told about a 12-year-old boy named Waleed Kashash who had the same disease as him when he was a child and also had a dream of becoming a footballer. The Argentine striker has offered to finance all medical bills until the boy turns 18.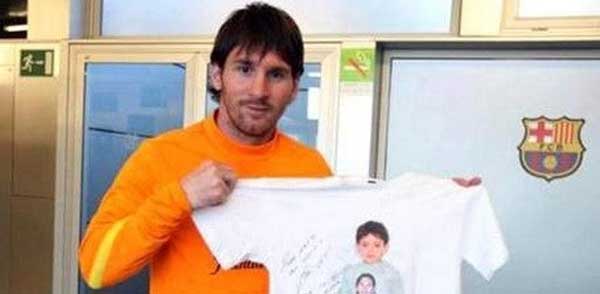 Messi and his shirt to young Waleed Kashash. Photo: FB
Not only that, but Messi also sent Kashash's family a photo of him holding a shirt with the boy's image on it, along with sincere words of encouragement.
Meet a young Afghan fan
Messi holds a young Afghan fan in his arms. Photo: Goal
In 2016, the image of young Murtaza Ahmadi wearing a shirt with Messi's name made of plastic bags was shared throughout social networks. Upon learning of this information, Messi sent the boy a signed shirt.
The story does not end here, when Barcelona had a tour in Qatar, this club helped the Afghan boy meet his idol directly. Ahmadi was then carried by Messi himself in the tunnel.
Do not accept wedding gifts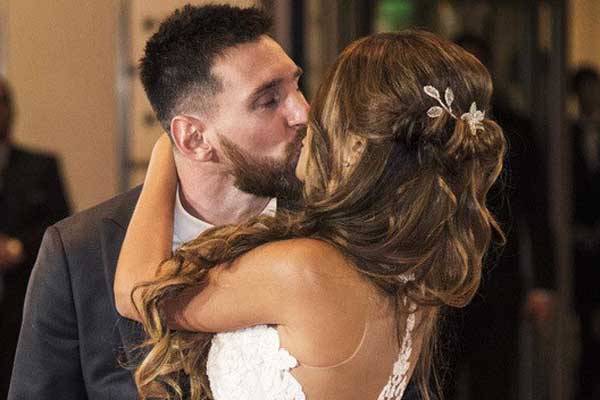 Messi and his wife on their wedding day. Photo: Twitter
In 2017, Messi married his longtime girlfriend Antonella in his hometown of Rosaria. On the big day of his life, he asked guests not to buy wedding gifts, but to use this money to contribute to a charity fund specializing in supporting health, education and sports for poor children.