Indonesia must pay about 5 million USD for the country's national team to host world champion Argentina at Bung Karno Stadium on June 19 with Messi's own arrangements.
The Argentine Football Federation (AFA) has confirmed the tour of Messi and his teammates through the official website and social network of the Argentine national team. Before going to Indonesia, the Argentina team will visit China and face the Australian team on June 16.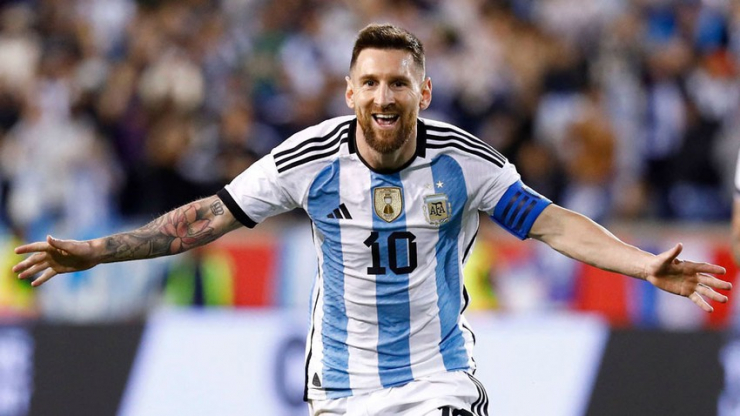 Coach Shin Tae-yong and the Indonesian players are eagerly waiting for Messi (pictured below) and the world champions. Photo: REUTERS – CCT
How Indonesia invited Argentina
The Indonesian team has two friendly matches during FIFA days in June when the 14th will host Palestinian guests at Bung Tomo Stadium, Surabaya. Five days later, coach Shin Tae-yong's team welcomed the 2022 World Cup champion at Bung Karno Stadium, Jakarta.
Rumors about the match between the two teams Indonesia and Argentina have been circulating for the past few months and at this point are no longer rumors or semi-doubts. People are very curious about how the Indonesian Football Federation (PSSI) can invite the world champion, including captain Messi, to accept to travel in Southeast Asia and make the Indonesian dream come true?
It all started with PSSI President Erick Thohir, 53, when he attended the FIFA Congress in Rwanda on March 16, 2023 and enlisted to meet officials of the Argentine Football Federation (AFA). In addition, Mr. Erick Thohir also met directly with a number of other federation officials such as Football Federation Australia (FFA) President Chris Nikou to inquire about inviting Argentina to a friendly match.
PSSI Vice President Zainudin Amali then revealed Mr. Erick Thohir's plans and hinted that Argentina could become Indonesia's opponent during the FIFA competition days in June, but let the PSSI president make the official statement. . Rumors about this friendly match also reached the ears of coach Shin Tae-yong, who is holding the Indonesian team, making the coach who led the Korean team in the 2018 World Cup final excited: "I hope it can happen." . Some Argentine media also regularly give the latest developments on the possibility of Argentina playing friendly against Indonesia and other Asian teams.
Meanwhile, Mr. Erick Thohir only hinted that he was approaching Argentina, because the PSSI president, who used to be the president of the Inter Milan club, often does not like to brag when he is uncertain about the black and white paper contract. He said only briefly in early April: "We have sent out invitations, there is still no clear answer from the Argentine side."
On May 23, AFA announced: "The Argentina team will play a friendly match with Australia in Beijing, China on June 15. Four days later, Lionel Messi and his teammates will face the Indonesian team in Jakarta."
The contract must have Messi
PSSI says it does not use an agency in its FIFA match day search and that everything is done by PSSI. This corresponds to the revelation of Nine Sport CEO Arif Putra Wicaksono, claiming that his agency will fail to invite Argentina to compete in Indonesia, as this is an agreement between the AFA and PSSI federations. .
Mr. Arif said superstar Lionel Messi was the magnet that attracted all attention when he visited Indonesia and that putting together a bidding package with Argentina was certainly not easy. Accordingly, Messi received a secret private remuneration and the superstar's representative also requested a special place to stay while in Indonesia. He will take a private jet because he does not want to linger after this match.
Mr. Arif Putra Wicaksono revealed that such a request is very reasonable because Messi is a star of great caliber. He said: "I do not know exactly where Lionel Messi requires but must ensure all the best facilities.
We all see in the 2022 World Cup, Messi deliberately chooses to practice in areas that are difficult for photographers to reach. This is to protect the exclusive rights to his image."
Mr. Arif is sure that PSSI wants Messi to appear in the match against Indonesia and to make this happen, Nine Sport's experience when drafting the contract is accompanied by a penalty clause if Messi does not play: "We I usually set a high fine and Argentina will definitely let Messi play. Because the large penalty will make them think twice."•